Hosting a dinner, company picnic, or another event why not use custom printed paper plates to advertise! Custom printed paper plates are an excellent low cost way to advertise. People will see your imprint when they pick up a plate, pile on the food, and again after their finished with the meal. It's difficult to get that long of an exposure with people without paying an arm and a leg. With a large imprint area, you can put any graphic or text on a promotional paper plate.
Custom printed paper plates come in a variety of styles and sizes which make it possible to find a plate for every occassion. By custom printing your logo or business name a plate will add a professional look to your next promotional event. So why wait? Contact us today to get more information by calling or chatting with us online. If you are ready to order you can order online, or place your order on the phone.
See more styles, colors, and prices for paper plates at our extensive online catalog.
What better way to advertise than to get matching stadium cups, steins, or napkins and increase your exposure even more.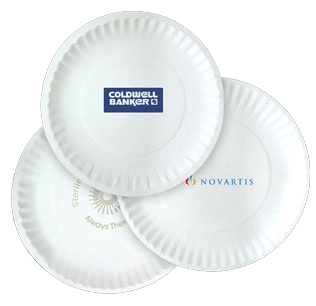 Looking for more information on custom imprinted paper plates? Feel free to visit our HUGE CATALOG by clicking here!
Do you want to make a strong impression with your custom printed paper plates? Pair them with a custom printed cup. Our promotional cups are available for any budget.